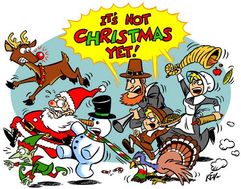 Hello Sweet People of the world!
We are so happy to see you here.  Its Holiday Time.  Next week is Thanksgiving - make a gratitude list if you haven't done that lately.  Chances are if you are reading this . . . you've got at least 1 thing to be grateful for and that's more than a lot of folks.
We've got a fantastic Holiday show headed your way on Sunday, December 10.  Tickets are going on sale this week and will NOT BE SOLD through the restaurant so don't call them about buying tickets.  ;). They will however, be happy to sell you food and beverages that night so come prepared to get your Holiday Cheer ON!!!!   Soon as tickets go live I will make a post with the link here.
This Thursday, NOV 16: Kayla, Steve & Randy will be at Red Sky Tapas doing their jazzy little thing from 7p - 10p so come on out and enjoy live music and fabulous food & drinks.  
Saturday, NOV 18:  Retrograde Duo is appearing at Adele's on Canton in historic downtown Roswell.  7p - 10p Y'all Come on out and eat some genuine Cajun food with us!!!