We're here.  We are here.  2021 has arrived and if you are reading this, you made it too.  Lawd Have Mercy on my soul.  Glad to see 2020 is G-O-N-E.  Don't get me wrong there were some bright spots . . . when I had my eye exam . . . (laugh - its funny.)
We've been doing a few gigs here and there.  Kayla & Steve are mainly working as a jazz duo right now.  Restaurants, Bars, clubs - those that are open have huge budgeting restraints as a result of the pandemic.  It limits their entertainment budget - understandably.  So rather than whining about it - we do the gig with what their budget will allow.  When we can - we pull our fabulous saxophone player (Randy Hunter) along with us.  Now, that being said - we have had tremendous success with neighborhood parties and private parties where clients set up their lawns like Chastain and bring live music back to their neighborhoods that way.  We have done many cul-de-sac concerts and its been a huge hit.  Let us know if you want to schedule an outdoor concert!  Sooooo much fun!
As far as where we are currently playing publicly . . . OLD VININGS INN in the heart of Vinings area and ADELE'S CAJUN RESTAURANT in downtown Roswell.
Our very next dates coming up are at Old Vinings Inn on Feb 5 & Feb 26.  Make a reservation by calling:  770-438-2282.  Tell them you want to be part of the music in the Attic - cause that's where we are and they serve the FULL MENU up there.  There is a $15/per person cover to help with the cost of entertainment (we hope you don't mind.  Think of it as dinner + a show).  Follow us on Facebook:  Kayla Taylor Jazz 
We look forward to seeing you soon.  Please continue to protect yourselves and know that we are only playing at venues that are taking the precautions that need to be taken in order to host live entertainment
.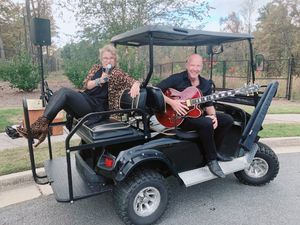 We came, we saw, we cul-de-sac'd!!!